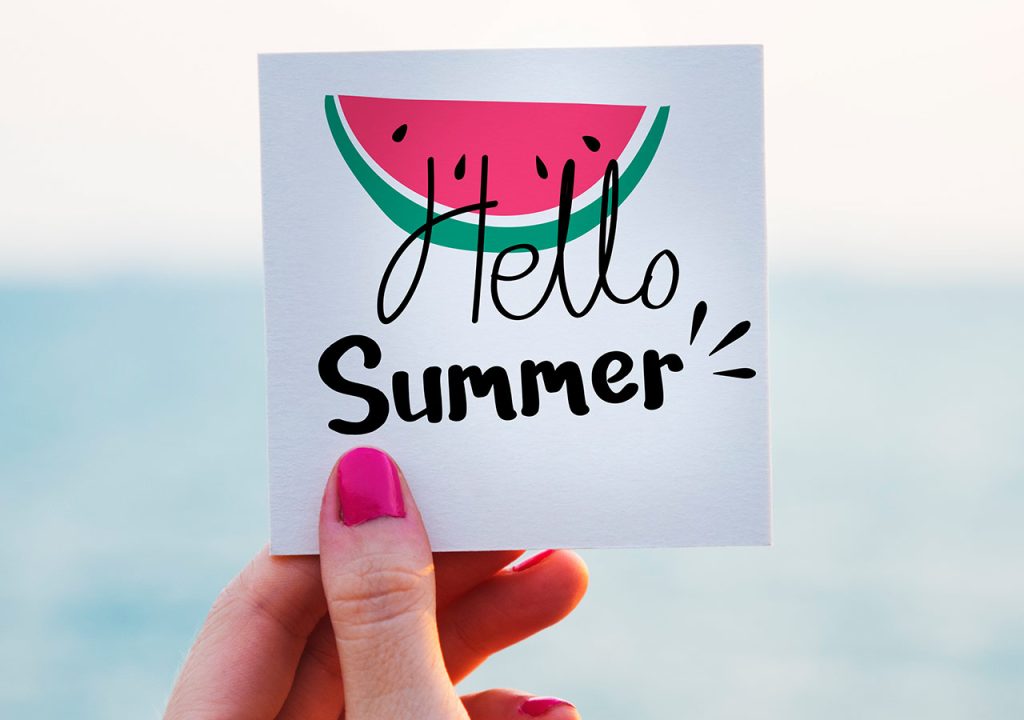 "...hot weather, humidity, and extra sun exposure can result in sunburns, sweat-induced clogged pores, and dark spots..."
The idea of basking in the warm summer sun and enjoying the great outdoors is alluring. The reality is that hot weather, humidity, and sun exposure can result in sunburns, sweat-induced clogged pores, and damaged skin if you overlook some very basic skincare tips.
Whether you are living in the tropics or travelling to a region experiencing summer right now, here are 5 top simple skincare tips that you must follow to maintain healthy skin. Read on!
1. Stay hydrated
Stay hydrated. Drink two to four cups of water every hour if you're doing activities outside in the heat or in direct sun. Your body needs more water than usual when working in a hot environment because you'll lose more fluids through sweating. Don't wait until you're thirsty! Drink water throughout the day to prevent dehydration or over exhaustion.
2. Level-up your SPF
Always wear sunblock or sunscreen. Yes! even on cloudy days. Exposure to UV rays is a risk factor for skin damage and even skin cancer. Choose sunblock with UVA and UVB. UVA radiation damages the skin's outer layer (sunburn) and UVB causes photo-aging and pigmentation.
Sunblock also protects your skin from infrared rays or rays that are emitted by electronic devices like computers, hand phones… These rays go deeper into skin than UVA and UVB rays and can cause free radicals that damage the skin.
In essence, you'll need a broad spectrum sunblock that provides both UVA and UVB coverage such as our DAILY AGE DEFENDSER that comes with SPF60 PA +++.
3. Bring out the hats & sunglasses
Sunglasses and hats are smart and practical accessories that not only compliments your summer outfit but protects you from the harmful UVA and UVB rays. Throwing on a wide-brimmed hat prevents harmful UV rays from hitting your face. Sunglasses that blocks 99 to 100% of UVA and UVB rays protect your corneas from the sorching sun.
4. Apply the right moisturiser
Avoid thick moisturisers. Instead consider applying light hyaluronic acid-based moisturisers. Such moisturisers are great at maintaining hydration without feeling oily and sticky. We also recommend a face mist to refresh skin throughout the day, as needed.
The trick to properly hydrating your skin is using the right moisturiser for your skin type. Ask our estheticians about the SUPER HYALURON GEL that is packed with 95% undiluted HA solution for continuous all-day hydration.
5. Properly wash your face
You will probably be more active outdoors or sweating more in the heat. And the correct way to clean your skin after a long day out with sunscreen or make-up on is to double cleanse.
First, clean your face with an oil-based makeup remover to remove make up, sunscreen, and pollutants. Then, use a foaming or gel-based cleanser to further cleanse the skin.
If you are looking for a gentle and revitalising cleanser, you can ask for our ANTIOXIDANT CLEANSER that is packed with pro-vitamin C that promotes restoration of healthy skin. Double cleansing is important as it prepares your skin to reap maximum benefit from your skincare range that follows (e.g. toner and moisturiser).
During the cleansing, wash close to your hairline as well — this area is usually overlooked, which can result in breakouts along the hairline or the outer edges of your face.
That's it! These are the top 5 skincare tips to help you maintain healthy skin while enjoying all that the gorgeous summer weather. Subscribe to our mailing list to learn more about simple skincare tips for healthy glowing skin.
Receive updates, expert advice and skincare tips right in your inbox.